A Two Month Certified OSH Officer Certificate Course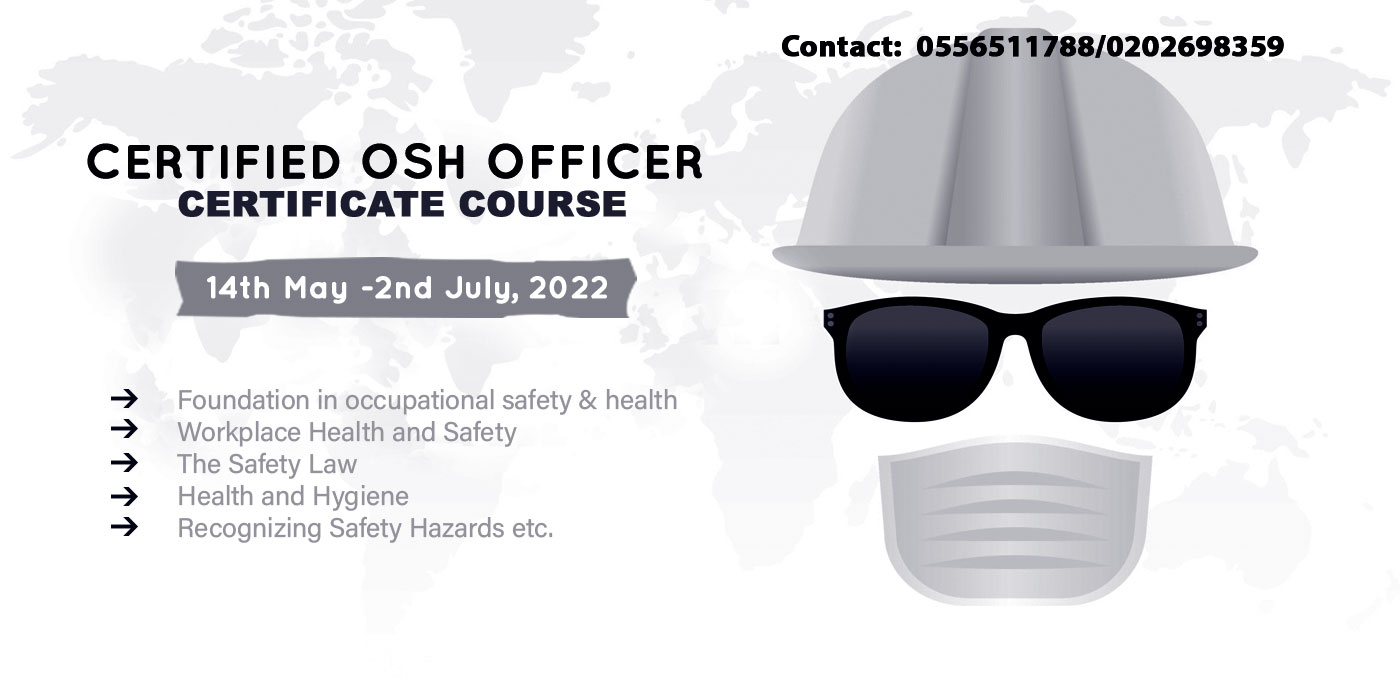 Ghana Communication Technology University (GCTU) in collaboration with OSH Association UK-GH powered by RICHMAA RISK CONSULT  invites applications from the general public to an eight week (Saturdays only) training on certified OSH Officer Certificate (Occupational Health and Safety)
Date        14th May -2nd July, 2022
Time:     9:00am-2:00pm
Venue:  Ghana Communication Technology University, Tesano
Fee:    Affordable (fee includes tuition, practicals, PPEs, certificate and training materials, examination and Certification)
Schedule:   Weekends (Saturdays only)
Contact:   0556511788/0202698359
COURSE OVERVIEW
Officer certification course is an essential course that provide employees with an awareness of health and safety as required by the management of health and safety at work regulations.
Designed to ensure that all employees are aware of their own safety and the safety of customers, contractors and the public.
TOPICS TO BE TREATED
Foundation in occupational safety & health
Workplace Health and Safety
The Safety Law
Health and Hygiene
Recognizing Safety Hazards etc.
CERTIFICATION
Successful Candidates will receive original OSHAssociation UK Certificate, Embossed Transcript and Online Verification Card
TARGET AUDIENCE
Participants expected on this training are Human Resource Persons, Health and Safety Officers, Construction Companies, Oil and Gas Companies, Law enforcement agencies such as the Police, Military, Customs, Immigration, Metropolitan guards and individuals who want to acquire knowledge in Health and Safety etc.
CONTACT
For further details and registration, please contact
Email: cpd@gctu.edu.gh /ahackman@gctu.edu.gh /vagbugblah@gctu.edu.gh
Telephone: 0302 200606/ 0556511788 / 0202698359