Cyber Security And Info. Systems Auditing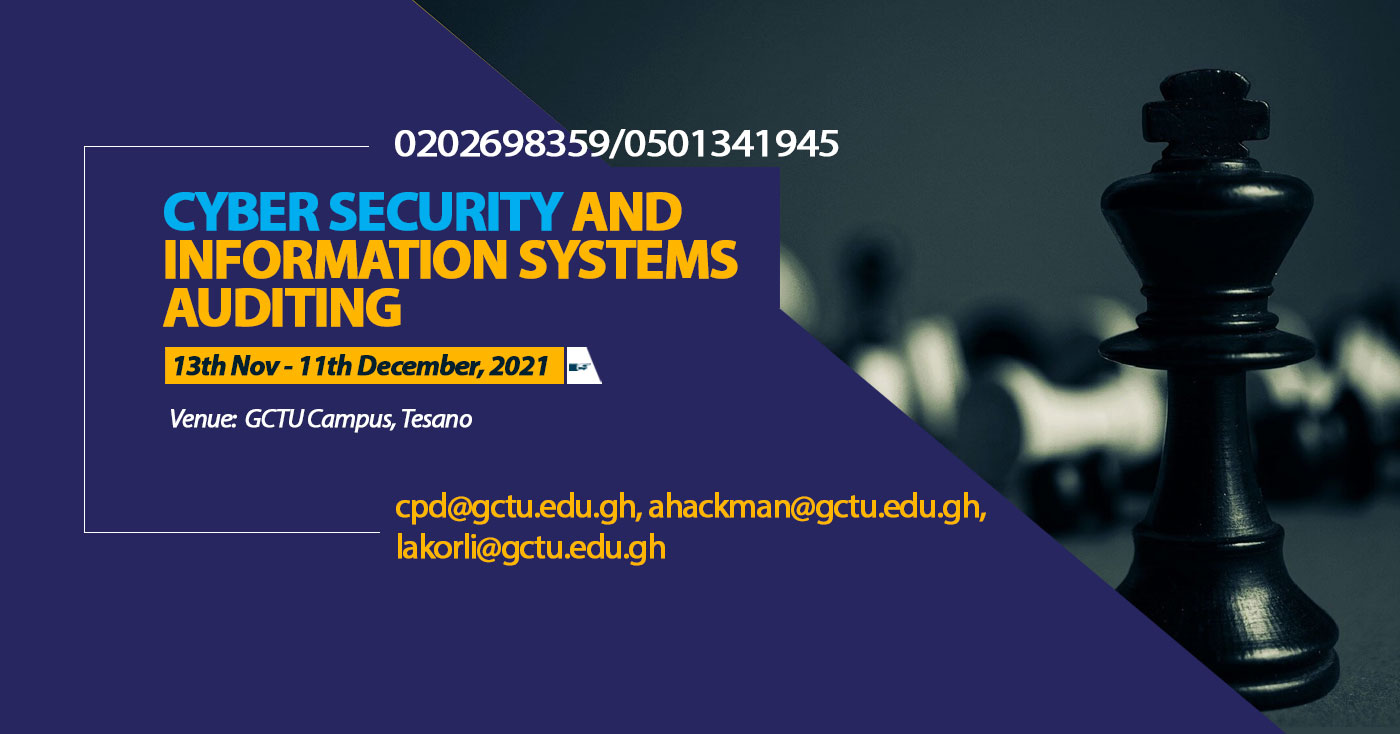 The Center for Professional Development, Ghana Communication Technology University will like to invite interested individuals and organizations to a 5 weekend training programme in Cyber Security and Information Systems Auditing. The training will run from 9:00 am to 2:00 pm each Saturday.
Course Overview:
The Certified Security and Info Systems Auditing programme has become the highest standard of distinction for professionals in Information Systems Auditing, Control and Security. At the end of this programme, participants will be equipped with evolving trends of Information Systems (IS), and the impact of Information System on the various structures and levels within Organizations. The sessions are designed to cover all the areas of the Certified Information Systems Auditor Examination and gain the knowledge and practical concepts prerequisite to obtaining CISA Certification. The primary objective of the training is to build the competence of participants in monitoring, managing and protecting Information Systems. The course offers an in-depth coverage of the following five domains of CISA.
Course Modules:
Process of Auditing Information Systems
Governance and the Management of Information Technology
Information Systems Acquisition, Development and Implementation
Information Systems Operations, Maintenance and Support
Protection of Information Assets
Target Participants:
The programme is suitable for the following professionals, IT Auditors, Audit Managers, IT Consultants, Security Policy Writers, Privacy Officers, Information Security Officers, Network Administrators, Security System Administrators, Security Engineers and Data Protection Officers.
Date:                       13th November – 11th December, 2021 (5 Saturdays)
Time:                                 9:00am – 2:00pm each day
Programme Fee:        Affordable (Fee includes course material, feeding & certificate)
Venue:                              GCTU- Tesano
For further details or registration, please send an email to: cpd@gctu.edu.gh, ahackman@gctu.edu.gh, lakorli@gctu.edu.gh
Or kindly call our offices on: 0202698359/0501341945
PostGraduate Short Courses
I.T Engineering and Training
Cyber Security Training
Professional Training
Personal Dev. Programmes
Unversity Access Programmes