Certificate In Investigative Accounting And Forensic Auditing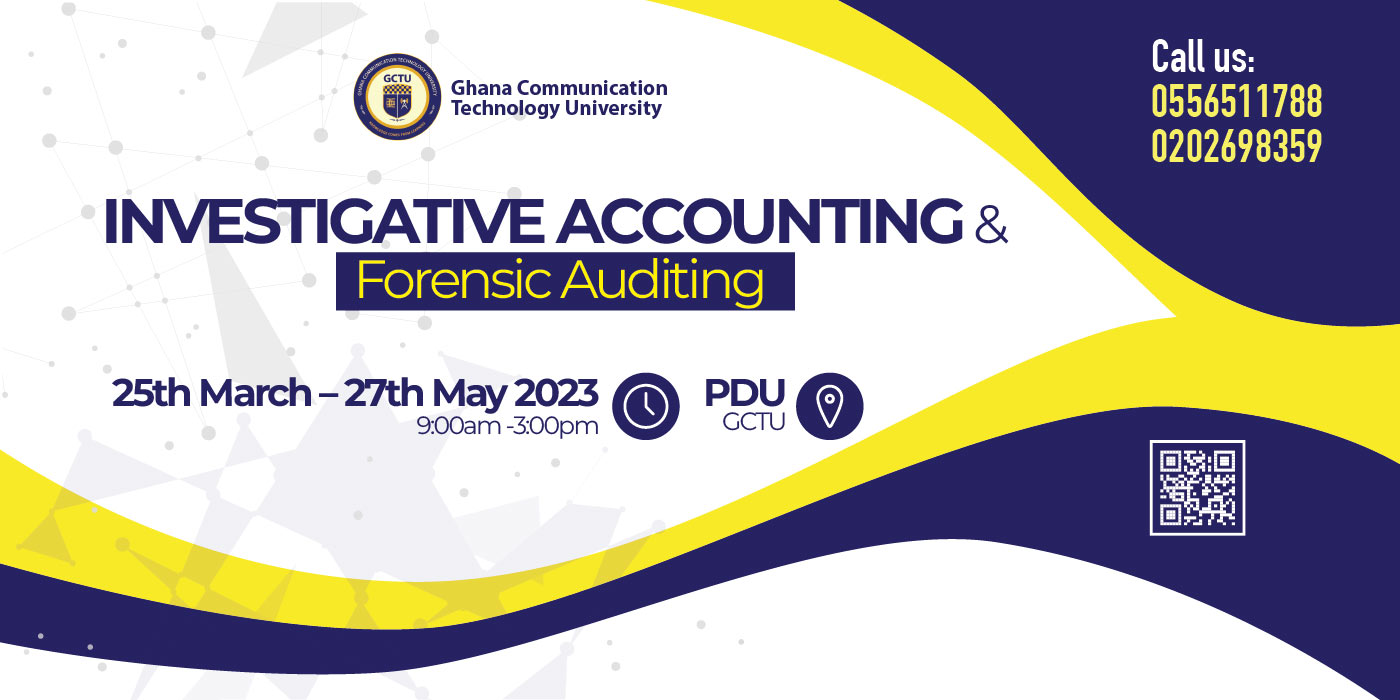 The Professional Development Unit, Ghana Communication Technology University is inviting the general public to a nine weeks (Saturdays only) training in Investigative Accounting and Forensic Auditing.
BACKGROUND
The accounting scandals involving Enron, WorldCom, Global Crossing, and other Organizations have put the Accountancy and the Auditing Profession in the public spotlight. After these scandals, public confidence in the Accounting & Auditing Profession has seriously been dented.
Even though, there are several Laws and Regulations, Accounting Standards as well as Internal Control Systems that are aimed at reducing the potential for falsification of financial documents, fictitious financial transactions and fraudulent financial reporting. Nonetheless, it has always been established that ingenious individuals can and have manipulated even the best Internal Control Systems for their personal gain.
There have also been series of fraud and corrupt practices that have been committed under the watchful eyes of the Internal and External Auditors. The extent of scandalous, outrageous and shocking revelations of fraud and misappropriations in most Organizations points to the need to enhance the overall capacity of today's Accountants, Auditors, Finance Professionals and those charged with the responsibility to safeguard resources to effectively tackle the problem of fraud and misappropriation or embezzlement in Organizations.
COURSE OBJECTIVES
This course has been carefully designed to provide the participants with specialize skills and expertise required to prevent, detect and investigate these commercial crimes, and to ensure that effective corrective measures are implemented.  It also provides specific skills set that integrates accounting, auditing and investigative skills to identify the warning signals or indicators of fraud, corruption and embezzlement. The course uses high profile and exciting blend of legal and numerical problem solving approach where the secrets are provided to beat the bad guys.
COURSE CONTENTS
♣ Overview of Forensic Accounting and Fraud Auditing
♣ Psychology of Fraudsters
♣ Corporate Governance and the Role of Professional Ethics
♣ Fictitious Financial Transactions and Fraudulent Reporting
♣ Fraud Prevention and Detection Strategies
♣ The Investigative Fraud Processes
♣ Techniques for Investigating and Reporting of Fraud
OTHER DETAILS
Date: 25th March – 27th May 2023
Venue: Ghana Communication Technology University, Tesano-Accra
Time: 9:00am -3:00pm
Fee: Affordable (fees includes tuition, course materials and certificate)
Duration: Nine (9) Weeks (Saturdays only)
Telephone: 0556511788 / 0202698359
TARGET AUDIENCE
This course is designed for Accountants, Auditors, Finance Managers, Chief Executives, Project Supervisors and other individuals responsible for eliminating waste, embezzlement, fraud, and other abuse in spending.