Invitation to a 4-day Salesforce Associate Certification Workshop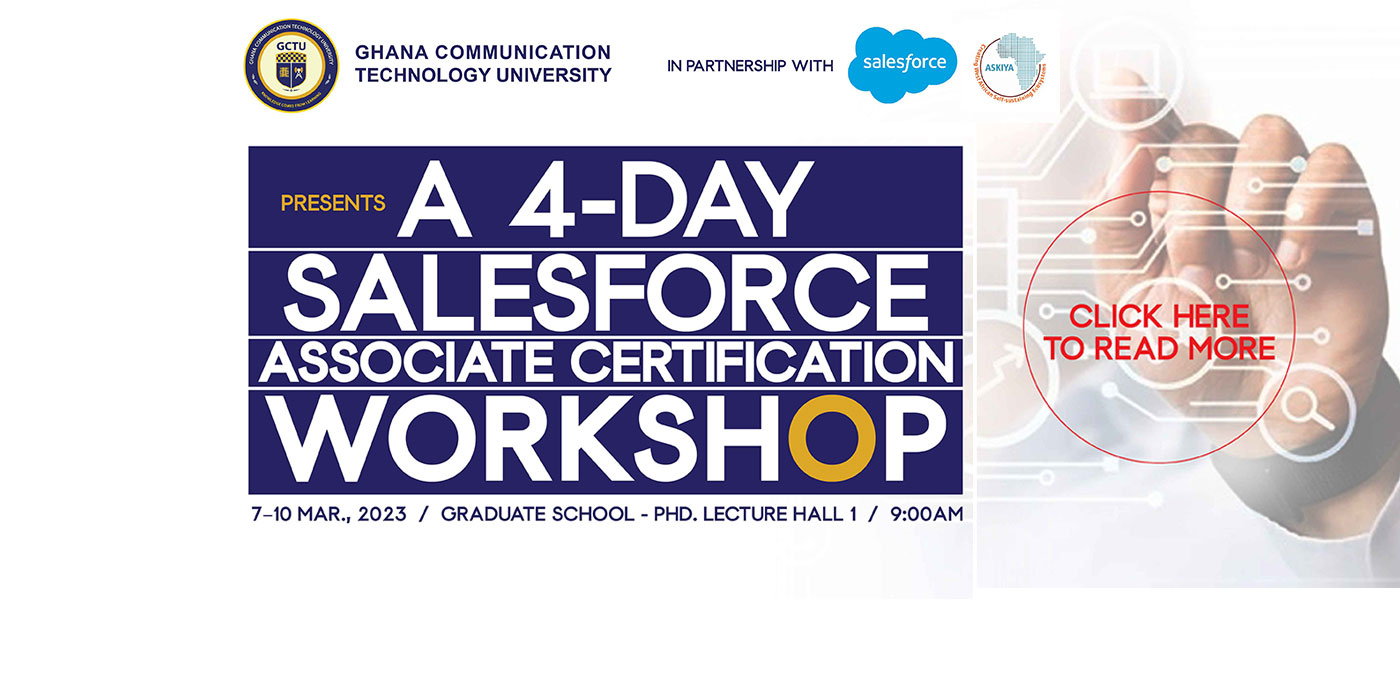 Ghana Communication Technology University (GCTU) in collaboration with The Interior Impact Studio Academy Presents a 4 Day Salesforce Work shop.
Details of the Workshop as follows:
Date: 7th – 10th March, 2023
Time: 9:00am -2:00pm
Venue: Graduate School-Phd. Hall
About salesforce Work shop
Impact Studio Academy's In-person 4 days' workshop for salesforce Associate is a blended prescriptive, expert –led learning program that gives you a plan to learn core knowledge to skill up on the Customer 360 Platform, and fast-track to the salesforce Certified Associate Certification. The workshop is designed for anyone new to the salesforce ecosystem interested in understanding reporting, user administration, sharing, customization and data management at a foundational level is also beneficial. It is also ideal to anyone looking to earn their Salesforce Certified Associate credentials.
Learning Outcomes:
Describe various resources available to learn and apply in-demand salesforce skills
Identify customer 360 product offerings which can be used in a given scenario
Understand how companies leverage salesforce
Differentiate between different job roles and career paths in the salesforce ecosystem
Navigate how a User locates and accesses necessary information
Know where salesforce customization takes place
Learn object Relationship between core standard objects
Determine feature to use to ensure data visibility and know the tools to leverage to ensure data integrity
Describe salesforce Reports and dashboards
This half-day session to help you prepare for your salesforce certification. The session is led by expert instructors who share their expertise, tips and best practices for the acing your Sales force Certification exam.
Phone: 0202698359