Invitation To A Five-day Sustainability Leadership And CSR Training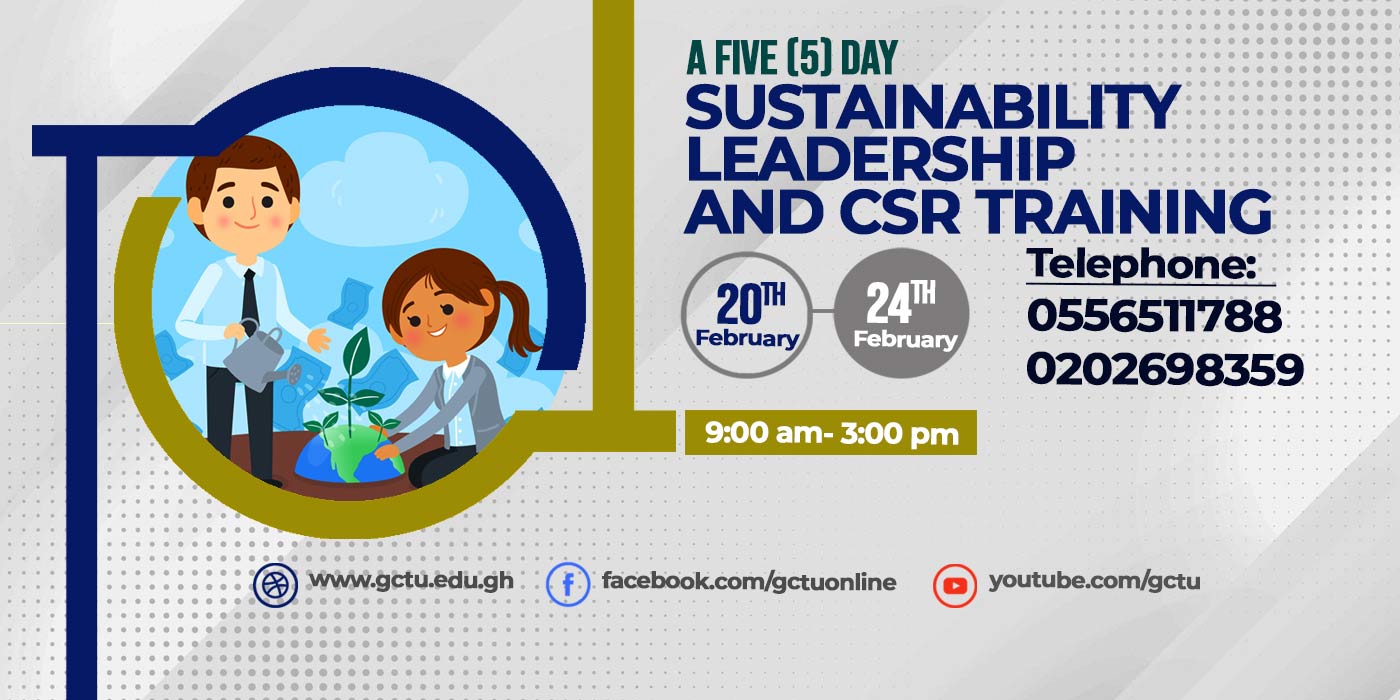 The Professional Development Unit, Ghana Communication Technology University, is pleased to invite you to a five (5) day training in Sustainability Leadership and Corporate Social Responsibility. The details of the programme are as follows:
Date:          20th – 24th February, 2023
Time:         9:00 am- 3:00 pm
Venue:       Ghana Communication Technology University, Tesano-Accra
Fee:             Affordable (Fees includes Tuition, Course materials, Certification and Feeding)
Telephone:  0556511788 / 0202698359
COURSE OVERVIEW
Corporate organisations use CSR and Sustainability programmes to make a difference in society by giving back to the community and the environment. However, major social and climatic changes have gained attention in recent years and have resulted in the demand for proactive corporate sustainable leadership, one that is long-term, has the future in mind and social responsibility at its core.
Increasingly, society and governments have an expectation that companies should produce social value. By this, CSR and Sustainability Programmes have become the vehicle to make such a difference thereby building positive company brand and reputation.
COURSE OBJECTIVES
 This course aims to aid participants to acquire in-depth insights and hands-on knowledge on best practices on Sustainability and CSR to create shared value for communities.
By the end of the programme, participants will:
Gain solid understanding of Sustainability and CSR trends
Learn effective strategies that not only focus on profit but co-create.
Lear ideas and techniques that help companies to become more ethical oriented
Equip you with requisite knowledge required to create corporate social investments.
Equip you with the right tools to balance head-heart-hand to all sustainable and CSR programmes and projects.
 COURSE MODULES
Sustainable Business Leadership
Competitive Advantage through Sustainability
Strategic Community Relations
Measuring Social Value
CSR and Eco-Innovations
TARGET AUDIENCE
This course is designed for CSR Directors and Managers, CSR Officers, Sustainability Managers/Officers, CEOs, Directors, Board Members, Communication & Public Relation Officers, NGOs, Donor Partners, Development Practitioners, Decision Makers and Personnel who are responsible for rural projects and programs development.