Certificate In Facility Management Training(4Days)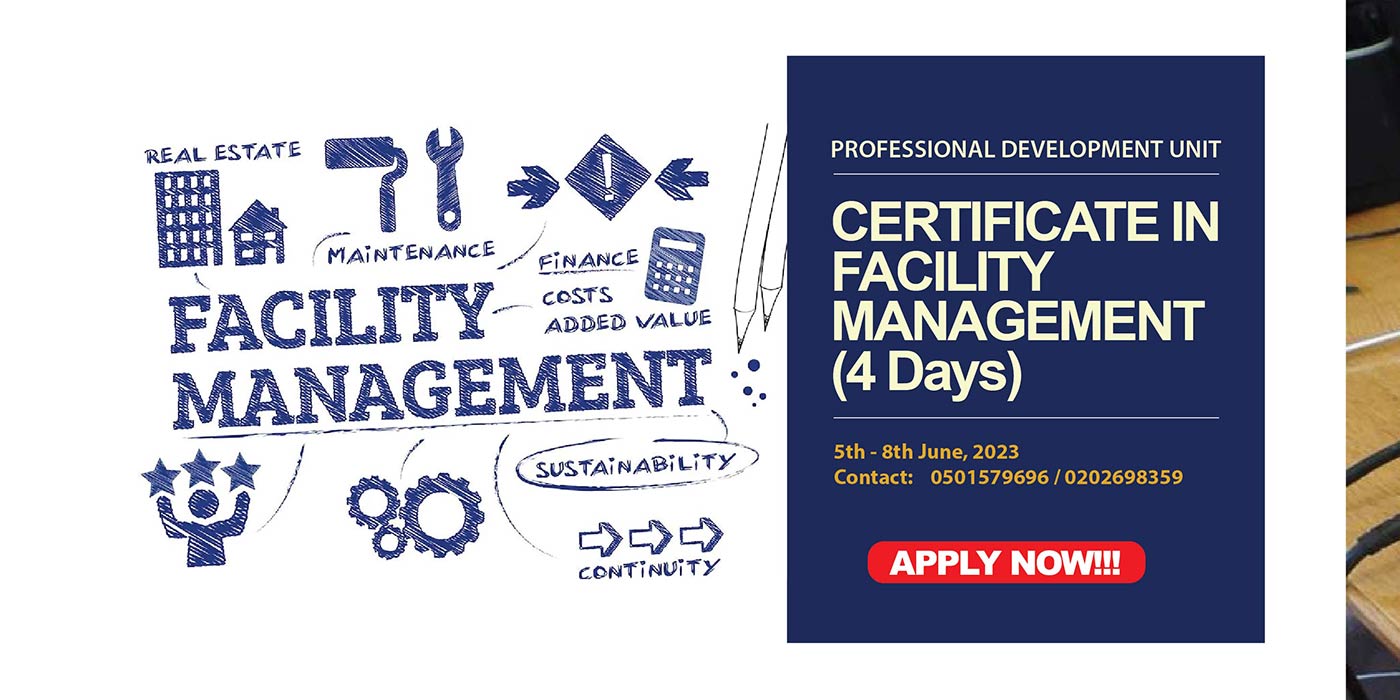 Ghana Communication Technology University is inviting applications from qualified candidates to a four (4) day training on facility Management. The details of the training are below;
This training program will discuss key topics like the basic principles of facilities management, how to apply best practices according to international standards, understanding how to operate and maintain the facilities unit, sharing facilities management experience, and insights regarding the current state of facilities management processes and opportunities to improve them.
Date:                     5th June -8th June, 2023
Fee:                       Affordable (includes tuition, course material, feeding and certification)
Venue:                  Ghana Communication Technology University, Tesano campus
Duration:              4 days
Contact:                0501579696 / 0202698359
DESCRIPTION
 This training program discusses essential elements like how to continually improve your facility department to get the best out of the facilities within the given limitations of costs, performance, and other important factors. It also identifies the practical problems encountered on the ground and offers real solutions. Overall, this course has been designed in a holistic manner to manage facility staff and corporate assets while minimizing risk exposure in the workplace.
LEARNING OUTCOMES
Understand service delivery and performance management
Expand your skills and knowledge of all topics relating to facilities management
Get an update on current best practice in facilities management
Gain a deeper awareness of the various contexts in which the facilities management function operates
Appreciate the role of project management in the context of Facility Management
Topics to be discussed are:
FM Technology
Sustainability and Energy Management
Quality Management
Space Planning and Move Management
FM Contracts and Procurement
Leadership, Customer Service and Stakeholder Management
Facilities Maintenance Management
Financial Management
Strategic Facility Planning etc.
TARGET AUDIENCE
Those who wish to be a part of the facilities management profession
Professionals who are employed in the design or management of facilities
Building operations teams
Maintenance operations teams